Digital Wealth
How to build a foundational advisor platform that powers the next wave of digital innovation
Wealth management firms are using digital platforms to revolutionize the industry.
Investments in new technology are transforming financial advice, providing customers with an experience that rivals the most forward-thinking tech startups.
Over the last ten years digital disruption has had a profound impact across all industries, with the pace of innovation showing no signs of slowing down. However, financial services continue to track behind other industries. Many would argue that this is due to a stifling regulatory environment, while others would say that incumbent financial services organizations are too big and complex to meet the required pace of change. Regardless of the rationale, it makes financial services a prime target for innovation and disruption.
The impact of digital disruption to wealth managers will vary based on the nature of the business, the segments it services and the role it wants to play as leader versus follower, and the investments that it has made historically to stay at par with the industry.
Firms are aspiring towards a digital future where their core lines of business are accessible through a single platform
The integrated platform enables clients to benefit from advice that accounts for their whole, holistic financial picture. New digital ecosystems are aspiring to deliver truly powerful solutions across the advisor value chain, by both building internally and partnering.
Wealth management firms are investing heavily in infrastructure that will empower an advisor because, in the near to mid-term, clients still desire a human element to managing their wealth. The differentiator among organizations will come down to the financial advisor (FA) and their platform's ability to enable the advisor.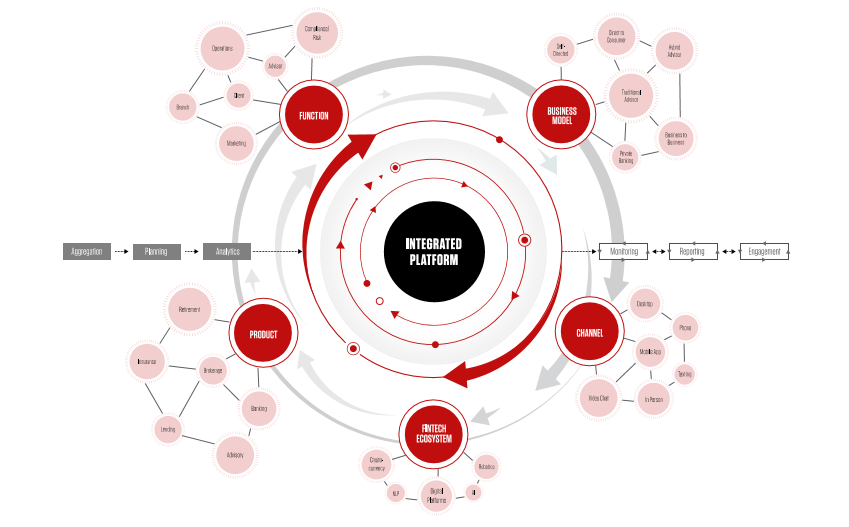 Platforms that optimize the key business area with innovation will be better positioned to achieve scale and efficiency
As industry competition grows, firms need to evaluate their digital platform strategy to determine which aspects of the value chain will be core to their value proposition and therefore key to differentiation and which can be delivered through strategic partnerships. A robust understanding of an organization's strengths will aid in defining the right partners, the right roadmap, and the right execution model that will eliminate silos and maintain alignment to core strategy and business principles.
The firms that are successful in achieving a foundational digital platform that can easily adapt to growth will be best positioned to enhance their wealth management solution with intelligence, allowing a more rapid and flexible transition powered by the next wave of technology innovation.
How Capco Can Help
Due to the rate of change and uncertainty involved in building the advisor platform of the future, a strong and unified leadership team is required to drive this magnitude of change. Capco has developed a comprehensive approach for helping firms overcome their challenges and deliver best-in-class solutions. We are uniquely positioned to work with you in the transformation of your Wealth Management business across strategy, target design, user experience, transformation, and execution. Capco's experienced team and robust set of proven tools and accelerators enable agile delivery, keeping pace with the rapidly changing digital landscape.
Contact Us
Kapin Vora
Partner, NA Head of Wealth Management