The final choice of a development framework should be driven by a full understanding of what's going on in the most important environment of all - the market
Few commentators dispute the pivotal role of technology innovation in the transformation of the financial industry. But getting the most out of innovation, by delivering the greatest meaningful value to the customer – requires more than technical prowess or a fancy business model. It needs an environment where the demand and supply sides - in the form of fintechs, start-ups, investors and financial institutions - can align thinking, share visions and co-create real-world solutions efficiently and effectively. In the first of a three part blog series, we look at some of the key context issues that can help create an optimum environment for innovation.
Before you choose where you do it, be very clear about what you want to achieve.

Technology innovation environments often include both incubators and accelerators. However, nobody should leap to important choices before they carefully evaluate exactly what they want to achieve and the opportunities that are available to help them. The final choice of a development environment could and should be driven by a full understanding of what's going on beyond the lab and the boardroom in the most important and influential environment of all - the market.
Today, understandably, most fintech startups are focused on new technology (digital, applications, blockchain, etc.). They are attempting to create new business models driven by technology innovation, or innovative use of existing technology. Many have strong entrepreneurial characteristics as well as specialist skills. Meanwhile, operational efficiency and customer satisfaction-hungry banks are looking for return on technology innovation investment. They also demand a solid value proposition. And they want a strategic fit that encourages partnership rather than rivalry with the innovators.
To sell innovation into any market successfully, you must understand that market first.
Yes, incubators and accelerators can be a key success factor for traditional and disruptive financial institutions alike. But the indispensable first step, before making any detailed choices, is to achieve a real understanding of how global markets are changing. These insights can help bring together the right blend of incubators, accelerators, financial institutions and fintechs to tackle these changes. As the chart below illustrates, there is no single, homogenised financial market. Different regions present different challenges, all of which need to be understood at a high level and their unique needs tied firmly back into specific development objectives.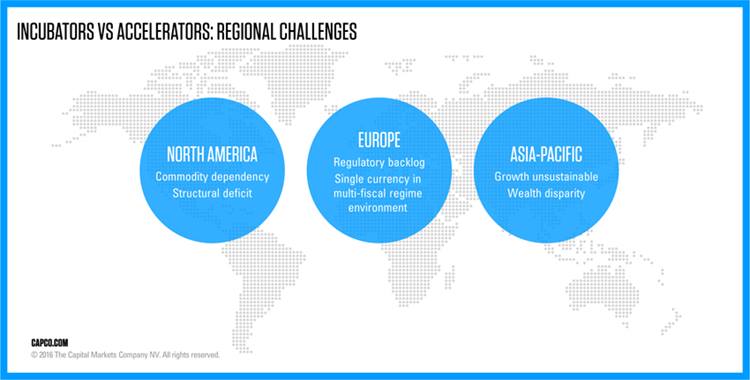 One-size-fits-all doesn't work with market-specific innovations
Financial institutions and fintechs need to be on the same page when it comes to regional requirements. There is no point in creating or investing in an innovation that doesn't match the culture of the region where it will be implemented. Regional differences are pronounced and they are diverse. As an innovator, you need a clear picture of how your thinking does (or maybe doesn't) fit with the region and countries you're pitching to. Each region has its own flavour and themes, see below: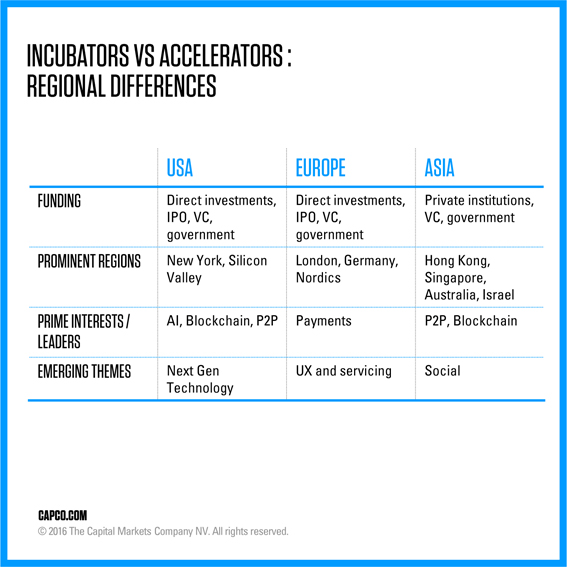 After making sure you understand the salient features of the market(s) you want to address as an innovator, the next step is to think about the right fit of business model. That will be our focus in the second blog in the series.
Follow our Financial Services experts Owen Priestley and Luis del Pozo on Twitter.