One of the most exciting areas in the financial industry today is the renaissance in customer propositions and choices, as non-traditional challenger banks enter the industry and established players race to create dynamic new offers. In this overview, we invite you to share our thinking and 10 step methodology around bringing new banks and new banking offers to a highly competitive market.
WELCOME TO BUILD YOUR OWN BANK (BYOB)
Through the course of this introduction to BYOB, we show that it is completely possible to develop, launch and operate a new banking service from the ground up in a matter of weeks, not years or decades. You don't need the most expensive and complex technology. Nor is an army of back office staff a requirement.
There are still some deeply rooted misconceptions that are holding back innovations and limiting the appetite to take advantage of the unique opportunities ahead. These opinions need to change.
Join us and discover how you can embark on the journey to Build Your Own Bank. Download the paper today.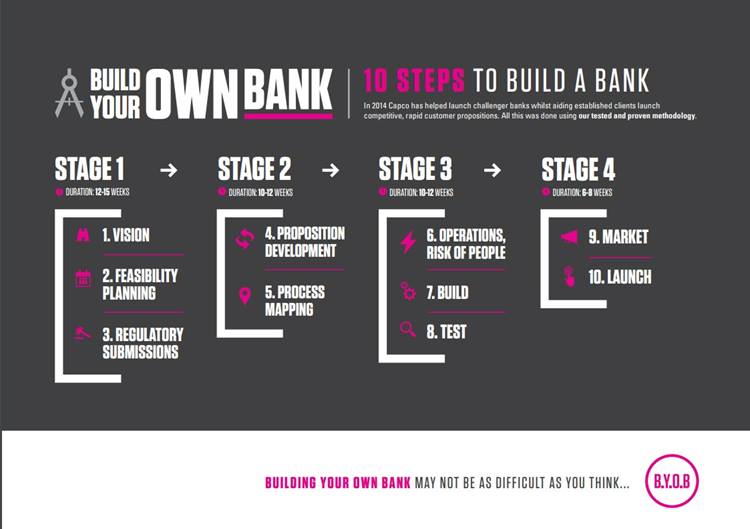 THERE'S NEVER BEEN A BETTER TIME
The banking industry is on the cusp of widespread change. In April 2014, the Financial Conduct Authority – FCA - confirmed that some 29 organizations had applied for authorization to become new banks in the UK. This followed the FCA and Prudential Regulation Authority's mandate to boost competition in the financial services industry. It may be that the new contenders will use established core banking platforms. They may have sufficient capital to design their own systems. Or they may be aiming to offer niche propositions.
Whatever the specific approaches, one thing is certain: the current banking eco-system represents the most favorable conditions for invention we have seen for some time. These conditions include lingering customer resentment towards established players, the need for strong brands to diversify their revenue sources, wider product accessibility for customers, and improved product usability. this 'perfect storm' of advantageous circumstances is there to be taken advantage of. Winners will gain real traction with customers and they can do so at a rapid pace. But, above all, the proposition will have to be relevant.