As the global landscape for enterprise payments evolves rapidly, the once commonly-held mindset that these services could be treated like commodities has disappeared almost as fast as the plans banks had for maintaining their legacy platforms.
The emergence of new, real-time payments solutions has compelled leaders of the world's largest financial institutions to consider technology investments that will help grow margins and, in turn, aid their ability to keep pace with growing client demands. In response to this challenge, many C-suite executives have started evaluating immediate use-cases for real-time payments. By prioritizing each of these scenarios based on business value, banks can effectively assess new strategic operating models, while keeping up with developments in the payments space.
STATE OF THE MARKET
The number of fintech startups entering the payments space is unprecedented. New entrants threaten to unbundle and disintermediate existing bank operations. As a result, payments strategists must develop effective evaluation frameworks that enable their institutions to properly assess go-to-market strategies while keeping tabs on both existing and emerging competitors. But such an undertaking is difficult. It requires near around-the-clock monitoring of the market, as well as steadfast partnership between business and technology leaders to identify their institution's key pain points. For many banks, these issues fall into the following areas:
Expensive upgrades: Implementing new core platforms is multifaceted and requires large investments that some executives believe will fail to generate short-term returns.
Legacy architecture: As a result of smaller, short-term technology fixes that have occurred over time, many banks have developed interwoven system architectures that make it difficult to decouple their payments services and the data needed to drive them.
Volume growth: Most legacy platforms were not developed to grow at scale and will be unable to deliver the expected increases in payments volume and speeds.
Lack of choice: Long-term contractual commitments to current payments providers and investments in the development of proprietary tools cannot be abandoned.
Operating cost: Heightened demand for payments technologies and the resources required to service them have resulted in higher costs and longer time-to-market.
INVESTING IN REAL-TIME: START SMALL, GROW FAST
While the above list holds true for a large number of financial institutions, the reality is that the current environment of payment networks, processors, acquirers and banks affects each party differently.
In order to best understand an institution's pain points, executives must make efforts to prioritize the development of real-time payments use-cases. By identifying these scenarios and confirming their viability with stakeholders, management teams can align their respective business and technology teams. Moreover, these use-cases provide a baseline against which the institution can execute its IT strategy and measure incremental progress as the service grows at scale.
Each institution will weigh use-cases differently based on a confluence of variables, such as product, customer, supply chain complexity and cost. As part of its Same Day ACH Update published last fall, NACHA highlighted the following use-cases for faster payments initiatives in the US: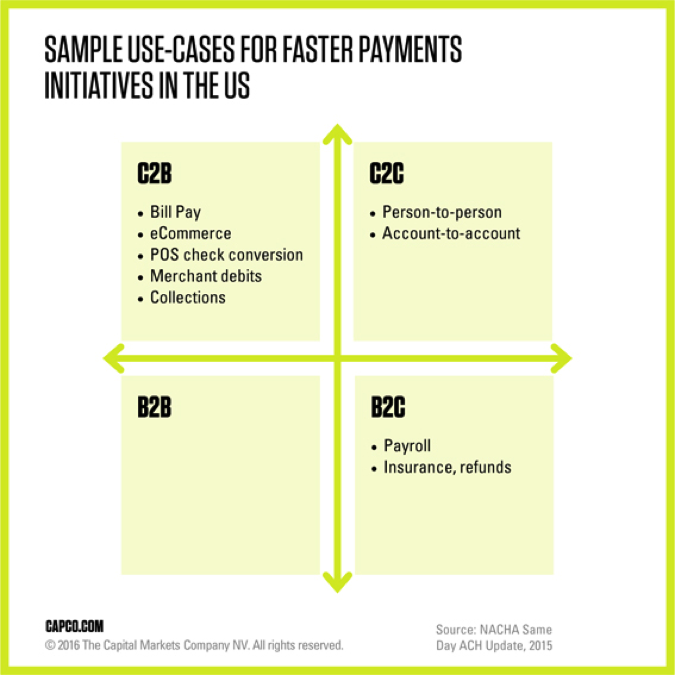 NOT ALL USE-CASES ARE CREATED EQUAL: THE IMMEDIATE OPPORTUNITY FOR B2B
Several payment types are strong candidates for real-time technologies, but business-to-business (B2B) transactions have emerged as an area of immediate opportunity. There are many reasons why B2B is a strong use-case, but one of the primary motives derives from the very nature of the payment. At its core, a B2B payment traditionally implies a buyer-seller relationship, where on one side of the deal is the customer, who sends funds and awaits their desired product or service, and on the other is the vendor, who waits for the funds to clear prior to releasing that product or service.
While B2B can entail a variety of scenarios separate from the one above, this instance clearly illustrates why the exploration of real-time payments continues to be driven by the growing expectations of consumers, as both parties are equally incentivized to speed up the authentication, authorization, clearing, and settlement processes to execute the transaction for their customers more quickly.
PARTNERING TO GET RESULTS
With global payment account and transaction revenues expected to reach $1.1 trillion by 2022 (source: CEB, 2015), there is no question that the banks that successfully address the challenges of implementing real-time payments solutions will reap a variety of operational and customer experience benefits.
But in order to get there, leaders of these institutions need to align their business and technology teams in order to properly assess such a highly complex and multi-year investment. In the short-term, the identification and prioritization of high-value use-cases such as enterprise payments offers a significant, yet immediate opportunity for banks to do just that, while testing their various hypotheses and growing the scale of their developing prototypes.